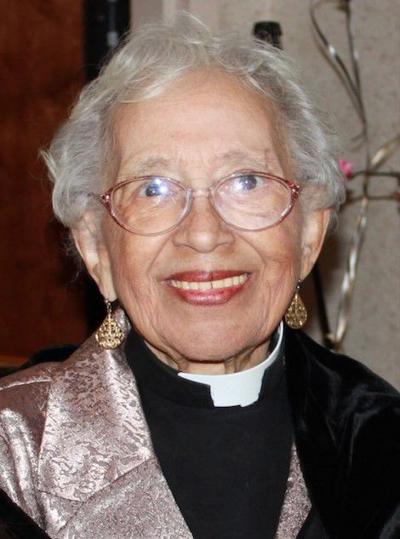 The Rev. Sadie Mitchell, a retired educator and Episcopal priest, died on Wednesday, Dec. 16, 2020. She was 99.
Mitchell had suffered several falls, with the last fall resulting in hip replacement surgery. She never fully recovered from the lasting effects of that trauma.
She was born on Jan. 4, 1921 to Joseph Alphonso Stridiron and Lucinda Clifton Stridiron. She was the second child of five. In her early years, she and the family resided in South Philadelphia. They attended The Episcopal Church of the Crucifixion in South Philly.
The family moved to West Philadelphia when she was a teenager. They became members of The African Episcopal Church of St. Thomas (AECST), then known as the Protestant Episcopal Church of St. Thomas (or simply St. Thomas).
Mitchell and her siblings attended Overbrook High School. After graduation, she attended Temple University, receiving her bachelor's degree in elementary education. In later years Mitchell obtained her master's in education from the University of Pennsylvania and her doctorate in education from Nova Southeastern University in Florida.
As an undergraduate at Temple, in 1939, Mitchell was initiated into Delta Sigma Theta Sorority, Inc., Xi Sigma Citywide Chapter. As a devoted member of this sisterhood, her 81st Deltaversary was commemorated in 2020. Mitchell was an active member of the Philadelphia Alumnae Chapter until 2017 when she was unable to participate in the sorority's activities due to failing health. She remained a financial member through the 2020-21 sorority year.
In 1946, she married Charles T. Mitchell Jr., a city of Philadelphia employee with the Department of Recreation, a member of Holy Trinity Baptist Church, a lover of jazz and gospel music, and a very active member and leader of the Benevolent and Protective Order of the Elks, O.V. Catto Lodge, formerly located in South Philly. Three children were born to their union.
During the early years of their marriage, the family resided in South Philly before moving to West Philly in 1952.
Mitchell made great efforts to engage her young children in activities with groups such as Jack and Jill of America, Inc. and The Sweet Kittens (a social group of the daughters of friends that was formed by her friend, the late Pearl Johnson). She enrolled the girls in piano lessons at the original Settlement Music School on Queen Street in South Philadelphia.
She gave the children the experience of overnight camps, first at Camp Oak Hill in Nottingham, then Camp Mohawk in the Catskill Mountains in New York, co-owned by her late friends, Jean and Adolphus Lewis Sr. and the late Sam and Edna Watts.
Mitchell learned how to drive when her daughters were very young. This was not common for women in the 1950s. Her brother, Clifton, a Tuskegee Airman mechanic during World War II, repaired an old Chevy jalopy then gave it to her. She drove that car for several years until she was able to purchase a used 1958 Rambler that handled like a truck.
Mitchell was a very active member of St. Thomas Church, even before becoming a priest. A few of the guilds in which she participated were the Episcopal Church Women (ECW), the Matrons' Guild, the Jesse F. Anderson Sr. Scholarship Fund Committee, the Music Committee, and the St. Thomas Historical Society. She and close friends, Mary Lu Sullivan and Louella Allen co-founded one of St. Thomas' guilds for women of the parish – The Sisterhood Guild. Until her health began to fail, Mitchell was also involved in Episcopal diocesan affairs such as the Union of Black Episcopalians and in affairs of the community-at-large.
Mitchell was a former board member of the Episcopal Community Services (ECS) and The Lincoln Day Nursery. With her community work and education background, she founded The Black Women in Education Association (BWEA).
Throughout her years as an educator, Mitchell taught in the classroom and worked as a science collaborator, assistant to the district superintendent and elementary school principal. For one year, beginning in 1963, she was an exchange teacher, teaching English in Guayama, Puerto Rico. She retired as the principal of the Joseph C. Ferguson Elementary School located in North Philadelphia.
After retiring from the School District of Philadelphia, Mitchell earned a divinity degree from the Lutheran Theological Seminary, Philadelphia campus. She was ordained to the Episcopal diaconate and subsequently to the priesthood. Mitchell served at St. John's Episcopal Church in Lower Merion, St. Mark's Episcopal Church in the Frankford section of Philadelphia and St. Luke's Episcopal Church in the Germantown section of Philadelphia.
In 1991, when the Rev. Fr. Jesse F. Anderson, Jr. was installed as the 16th rector of the AECST, Mitchell returned as the associate priest of the parish.
While serving at St. Thomas, Mitchell carried out her ministry in several ways. She guided the Sunday School activities for the parish youth. Mitchell visited house-bound parishioners and parishioners recuperating from illnesses at home, as well as parishioners in area hospitals and living in nursing homes. She celebrated her final retirement at St. Thomas.
She was preceded in death by her husband; brothers, Joseph Stridiron, Clifton Stridiron and James Stridiron and her baby sister, Lucinda Harper.
She is survived by: her daughters, Sadye "Sarah" Archer and Charlene M. Wiltshire ;son, Charles "Bud" Mitchell, III (Allyson); grandchildren, Rick, Charles IV "CT," John "Johnny," Alexsandra "Alex," Connor, Chase and Madelyn; four great-grandchildren; one sister-in-law and other relatives and friends.
A memorial service is pending with the full opening of her church.
In lieu of flowers, the family requests that donations to mailed to The Jesse F. Anderson, Sr. Scholarship Fund, The AECST, 6361 Lancaster Avenue, Philadelphia, PA 19151. Checks may be made payable to: AECST, with "JFA Scholarship in memory of Pastor Sadie" written in the memo portion.
Wood Funeral Home handled the arrangements.